9月28日,沪宁沿江高铁正式开通运营。这条沿长江南岸修筑的高铁线路,串联起了江阴、张家港、常熟、太仓等GDP超千亿的江苏县域,推动强区、强县、强市(县级市)之间串珠成链,构建了加强版的"轨道上的长三角"。
  The Shanghai-Nanjing High-speed Railway along the Yangtze River was opened on September 28th. This rail was constructed along the south bank of the Yangtze River, whichconnects several Jiangsu counties with GDP exceeding one hundred billion RMB, including Jiangyin, Zhangjiagang, Changshu, and Taicang. It promotes the linkage and development of strong regions, strong counties, and strong cities (county-level cities), building an enhanced version of "the Yangtze River Delta on the Rails."
  来自乌兹别克斯坦的南京大学留学生莫宇琛心中一直有一个疑问:为什么中国这些人口仅百万左右的县级城市,却拥有这么强的经济实力?趁着这条高铁开通,他乘着火车打卡了这些轨道上的"千亿县"……
  Nanjing University student Mo Yuchen from Uzbekistanhas wondered why these county-level cities in China with populations of only about one million have such strong economic power. He travelled to thesecountiesalong The Shanghai-Nanjing High-speed Railway to find outtheanswer.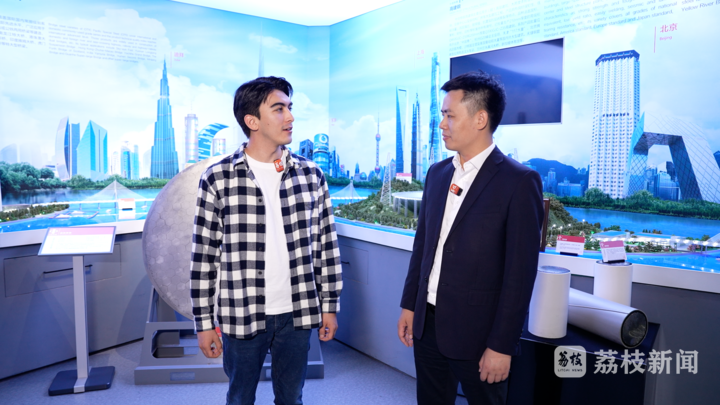 梅花鹿、鸵鸟、羊驼、鸳鸯、天鹅、鲤鱼……在江阴,宇琛走进一家有动物园的钢铁厂,"这些动物是兴澄特钢'聘请'的'环境监测员',通常大家会认为钢厂是一个高排放高污染的企业,但是在这里,这么多动物健康成长着,这是兴澄特钢绿色发展的有力见证。"中信泰富特钢集团兴澄特钢轴承钢研究室主任尹青说。
  Deer, ostriches, alpacas, mandarin ducks, swans, carp... In Jiangyin, Yuchen visited a steel factory that also houses a zoo. "People usually think that steel production is a high-emission and polluting industry, but these animals live healthy and happily here, which shows that our companyis doing a good job of environmental protection." says Yin Qing, director of the Bearing Steel Research Department inJiangyin Xingcheng Special Steel Works Co., Ltd.
  兴澄特钢是江阴本土成长起来的企业,现已发展成为全球单体规模最大、品种规格最全的特殊钢生产基地,参与了国内外许多重大工程,如克罗地亚佩列沙茨大桥、迪拜塔、中国天眼、沪苏通大桥等。和江阴的大多数企业一样,兴澄特钢也在智慧转型的道路上持续发力,炼铁智慧大厅汇集了集团在全国各地的高炉生产情况,既可以实时在线监测生产过程,还能对问题进行远程专家诊断,大大提高了生产效率。
  Xingcheng Special Steel Works Co., Ltd. is a local company in Jiangyin and has now grown into the world's largest single-entity special steel producer with the most comprehensive range of products. It has been involved in many significant projects both domestically and internationally, such as the Pelješac Bridge in Croatia, Burj Khalifa Tower, China's FAST, and theShanghai-Suzhou-Nantong Yangtze River Bridge. Like most companies in Jiangyin, Xingcheng Special Steel Works Co., Ltd.is actively pursuing digital transformation. The steelmaking Wisdom Hall brings together data from blast furnace production across the country. It enables real-time online monitoring of production processes and allows for remote expert diagnosis, significantly improving production efficiency.
  兴澄特钢的智慧转型也是江阴激活全域创新的发展缩影,作为"中国制造业第一县",近年来江阴积极探索产业链、创新链、人才链深度融合,制造业跨越提升的新路径,以打造具有全国影响力的先进制造业科创中心为目标,"科创江阴"正在由图景变为现实。
  Xingcheng Special Steel's digital transformation is a reflection of Jiangyin's efforts to activate comprehensive innovation. As the No. 1 county in the Chinese manufacturing industry,Jiangyin has been actively exploringhow to deeply integrate the industrial chain, innovation chain and talent chain, and how to make the manufacturing industry upgradewith the goal of creating an advanced manufacturing and scientific innovation center with national influence. "Scientific Innovation Jiangyin" is changingfrom a vision to reality.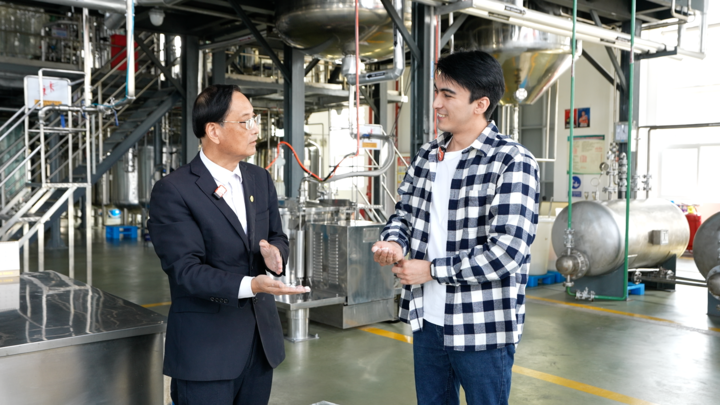 青蒿素是中医药的瑰宝,但长期以来青蒿素类药物生产技术都被两家欧洲医药巨头所垄断。在张家港威胜生物医药有限公司,董事闫勇义向宇琛回忆起创业并落户张家港的经历。
  Artemisinin is a treasure in traditional Chinese medicine, but for a long time, the production technology for artemisinin drugs had been monopolized by two European pharmaceutical giants.Yan Yongyi, thedirector ofVinsce Bio-Pharm(Suzhou)Co., Ltd., recalled the experience of starting a business and settling in Zhangjiagang.
  2010年,在植物提取相关行业积累了丰富经验的闫勇义归国,与中科院、中山医药大学的3名博士开启了青蒿素衍生物的生产技术和研发攻关。在公司面临从研发向产业化转型的关键时期,他经由朋友推荐来到张家港继续发展。闫勇义清楚地记得,初到张家港时,政府就送来了"大礼包",在资金、厂房等方面给予大力支持。几年时间下来,威胜生物医药就发展成为了全球唯一的青蒿素医药原料全产业链公司。
  In 2010, Yan Yongyi, who had accumulated rich experience in the plant extraction industry, returned to China. He began to studythe production technology of artemisinin derivatives with three PhD colleagues from theChinese Academy of Sciences and Sun Yat-sen University. During the critical period when the company was transitioning from research and development to industrialization, he came to Zhangjiagang for further development based on recommendations from friends. Yan Yongyi clearly remembers that when he first arrived in Zhangjiagang, the local government provided significant support in terms of funding, factory buildings,etc. Over the years, their company has developed into the world'suniquecompany with a full industrial chain for artemisinin pharmaceutical raw materials.
  和闫勇义一样,越来越多的人才将目光投向张家港。截至目前,张家港人才资源总量44.3万人,高层次人才总量4.1万人,领军型创新创业人才超1200名。吸引人才更要留住人才,为此张家港拿出人才工作"秘籍",即全领域人才引进培养,给予力度空前的"综合扶持";全流程人才发展支持,既有对勇攀高峰的企业给予的"上市支持",也有积极稳健的"金融支持";全要素人才服务保障,创立了张家港人才礼遇体系,实施人才服务专项行动,最大程度地拓展人才服务的深度和广度。
  More and more talents are turning their attention to Zhangjiagang.Until now, Zhangjiagang has 443,000 talents in total, including 41,000 high-level talents, and more than 1,200 leading innovative and entrepreneurial talents.Attracting talent is one thing, but retaining talent is equally important. To achieve thisgoal, Zhangjiagang has laid out a "talent strategy" with comprehensive support in all areas. The city promotes talent introduction and provides unprecedented "comprehensive support." It also offers support for the entire talent development process, including "listing support" for companies aiming high and "financial support." A comprehensive talent service guarantee system has been established, and Zhangjiagang has implemented a talent service special action to expand the depth and breadth of talent services to the fullest extent.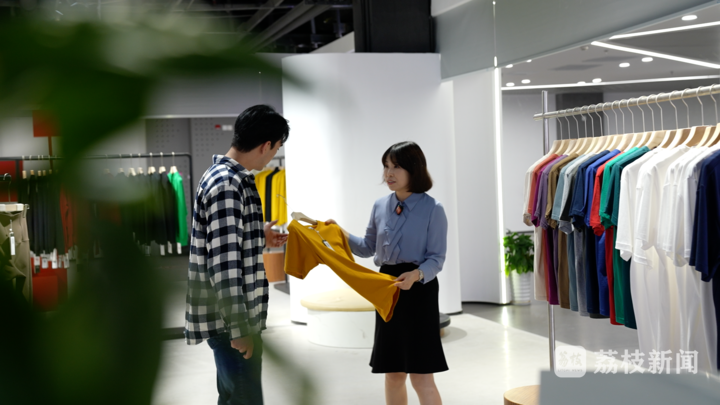 走进常熟服装城,宇琛发现这里和传统商城不太一样,鲜少看到顾客。早在2021年,服装城便将综合市场的2至5楼改造成了供电商直播的数字时尚基地,现有150个左右的直播间,在这里线下客流量已不再是这里最关心的数字,直播间人数、粉丝量、订单量等成为商家更看中的指标。热闹的直播间外,仓库管理员推着小车在基地穿梭,将一件件衣服扫码打包,发往全国各地。
  When Yuchen visitedChangshu Garment Town, he noticed that it was different from traditional shopping centers, with few customers in sight. As early as 2021, Changshu Garment Town hastransformed the 2nd to 5th floors of the mall into a digital fashion base for e-commerce live streaming, with about 150 live broadcasting rooms. Here, offline foot traffic is no longer the most critical measure; live room numbers, followers, and order volumes are what businesses value more. Outside the lively live rooms, warehouse managers push carts through the base, scanning and packaging clothing items, and sending them to various parts of the country.
  常熟服装城集团有限公司综合市场副总经理魏慧告诉宇琛,通过线上物流平台,服装城数字时尚基地月发单量有60万单左右,全年交易额保持在6亿元上下。服装城的转型折射着常熟持续激发产业转型效能的求变之路。
  Wei Hui, Deputy General Manager of general market in Changshu Garment Town, told Yuchen that through online logistics platforms, the monthly order volume of the digital fashion base in the garment town is around 600,000 units, with an annual transaction volume of around 6 billion yuan. The transformation of the garment town reflects Changshu's ongoing effort to stimulate industrial transformation and enhance efficiency.
  探访的最后一站,宇琛想知道为什么中国前驻德国大使史明德曾说太仓在德国的知名度甚至比中国还要高?走进太仓的南京路,托克斯、通快机床、舍弗勒......一众知名制造业德企聚集于此。
  For the last stop of the visit, Yuchen wanted to understand why the former Chinese Ambassador to Germany, Shi Mingde, once said that Taicang had higher recognition in Germany than even in China. When he walked along Nanjing Road in Taicang, names of renowned German manufacturing companies such as TOX, TRUMPF,and SCHAEFFLER caught his eye.
  从1993年,第一家德国企业落户太仓以来,三十年间,这里已经吸引了近500家德企落户。除了得天独厚的交通区位外,优质营商环境生态也是太仓的竞争力所在。"在太仓,企业正常发展时政府绝不干扰,企业有需要时及时现身,我们的口号是'无事不扰,有求必应'。"太仓高新区经发局局长屠丹平说。
  Since the first German company settled in Taicang in 1993, over the past 30 years, about 500 German companies have been attracted here. Apart from its exceptional geographical location, the high-quality business environment and ecology are among Taicang's competitive advantages. "In Taicang, when companies are operating normally, the government doesn't interfere. When companies need support, the government is quick to respond. Our motto is 'Respond to every call, without interference when not needed' " says Tu Danping, Director of the Economic Development Bureau of Taicang High-Tech Zone.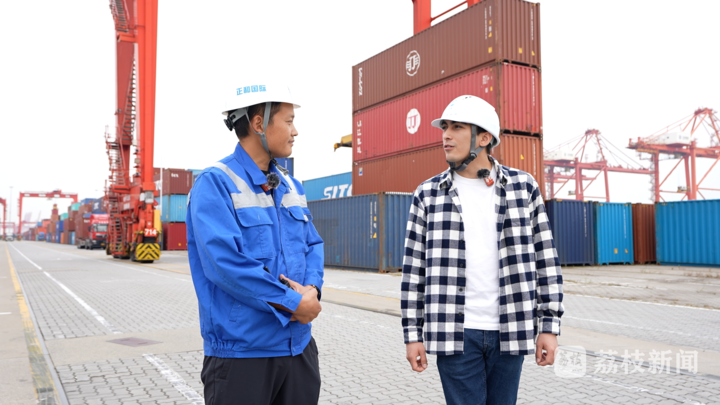 在距离德企园区数公里开外的太仓港,宇琛看到一排排堆叠的集装箱和长江上一艘艘穿行的货轮。优越的地理位置是太仓吸引外企入驻的优势之一。这个长江第一外贸大港现已和国内的67个港口建立了航线,和200多个国家和地区有了经贸往来,2022年实现进出口总额1106.44亿元,"太仓的国际范正越来越足,全球仓的名声越来越响。"太仓市商务局副局长虞斐说。
  At Taicang Port, located a few kilometers away from the German corporate park, Yuchen saw rows of stacked containers and cargo ships navigating the Yangtze River. The excellent geographical location is one of Taicang's advantages in attracting foreign companies. The Yangtze River's largest foreign trade port has now established routes with 67 domestic ports and has trade relations with over 200 countries and regions. In 2022, the port achieved a total import and export volume of 110.644 billion yuan. "Taicang's international reputation is growing, and its global influence is increasing." says Yu Fei, Deputy Director of Taicang Bureau of Commerce.
  自上世纪80年代"苏南模式"开创以来,苏南地区县域经济持续繁荣。在赛迪顾问县域经济研究中心副主任邓传林看来,当前这一地区的县域发展呈现出"长江三角洲城市群创新驱动主导模式"。其特点包括产业发展进入了以知识、信息、数据、高端人才等新要素驱动阶段,聚焦某细分产业方向,与区域内县域差异化、特色化协同,加强与全球技术创新主体在技术专利、产业转移等领域合作,融入全球创新网络。
  Since the "South Jiangsu Model" was created in the 1980s, county-level economies in South Jiangsu have continued to prosper. According to Deng Chuanlin, Deputy Director of the County Economy Research Center at CCID Consulting, the current development of county economies in the region demonstrates a "Yangtze River Delta City Cluster Innovation-Driven Model." This model is characterized by industrial development transitioning to a stage driven by new elements such as knowledge, information, data, high-end talents, and more. It focuses on specific industry directions, fosters cooperation among counties in the region that emphasize differentiation and specialization, and promotes cooperation with global technology innovation entities in areas such as technology patents and industrial transfer. This integration into a global innovation network is contributing to regional economic restructuring.
  随着沪宁沿江高铁开通运营,沿线的句容、金坛、武进、江阴、张家港、常熟、太仓等地正式融入沪宁"1小时交通圈"。江苏省战略与发展研究中心党委委员、副主任冯树春认为,沪宁沿江高铁的开通运营将进一步助力沿线城市推动产业链各要素流通,加快高校、科研院所集聚,促进人才、资金、物流更高速运转。同时,沪宁沿江高铁将与京沪高铁、沪宁城际铁路、北沿江高铁,共同构成长三角地区向西辐射的高铁大动脉,"也将打开苏南强县军团发展新空间,推动形成东中西部交流互动、优势互补、相互促进、共同发展的区域经济新布局。"
  With the opening of the Shanghai-Nanjing High-speed Railway along the Yangtze River,cities along the railway, including Jurong, Jintan, Wujin, Jiangyin, Zhangjiagang, Changshu, and Taicang, have officially joined the "1-hour traffic circle" between Shanghai and Nanjing. Feng Shuchun, a member of the Party Committee and Deputy Director of the Jiangsu Provincial Strategy and Development Research Center believes that the opening of the Shanghai-Nanjing High-speed Railway along the Yangtze River will further boost the circulation of various elements of the industrial chain, accelerate the aggregation of universities and research institutions, and promote faster mobility of talents, funds, and logistics. Moreover, the Shanghai-Nanjing High-speed Railway along the Yangtze River, along with the Beijing-Shanghai High-Speed Railway, the Shanghai-Nanjing Intercity Railway, and the North Yangtze River High-speed Railway, together form a high-speed artery radiating westward from the Yangtze River Delta. This will open up new development space for strong counties in the South Jiangsu region and promote the creation of a regional economic layout characterized by interaction, complementarity, mutual promotion, and common development in the eastern, central, and western regions.